So much to do and oh geez, only like 8 1/2 days to get it done (I agree, the countdown thing may NOT have been my best idea!). Are you serious? I need more time! So, here is where I am:
Niece:
Have to make her Camo Pants, Super Hero Cape, and Bunny Hat
Soon To Be Nephew:
Romper and Blanket done (well, MIL is edging the blanket for me, but my part is done) and hat is almost done, just have to finish weaving in the ends and scrunch up the top.
Layla:
Have to make 2 pair of flannel pants. I was going to do PJ's for her, but there is NO way they are getting done in time. I would also like to knit her a bunny hat. I still want to make a Christmas oufit, we will see if I get it done.
Jillian:
Have to make 1 pair of flannel pants. Same for her on the Christmas outift and bunny hat.
BIL:
A can cozy. He drinks a lot of coke and I thought this would be neat for him. I really like to do it in St. Louis Rams Colors, but I don't know if that is going to happen. I may just make him a simple one, we will see.
My parents and IL's:
Foot prints from the girls. We have to do 4 of these this year, YOW! 2 for each girl!
Neighbor:
I have NO idea, but she has done a ton of stuff for us this year and I want to give her a little something...any ideas???
I think that is all that I have to actually make. Do you think I can get it done? We will see, huh? I o have a couple of pics to share. Here is a pic of Jacqui who won my hat/gloves in the gift exchange I did last weekend.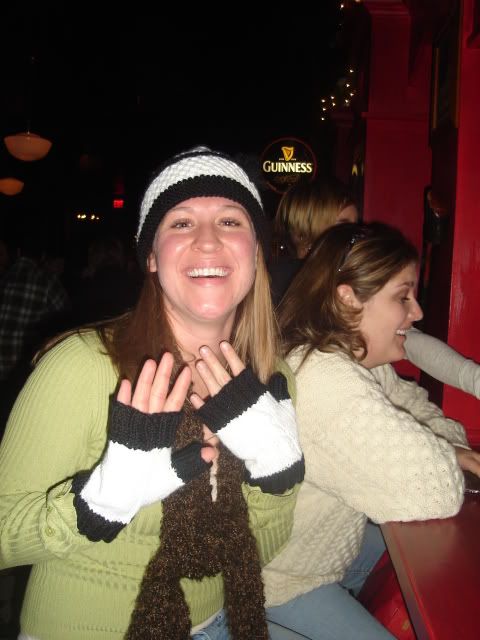 Here is a pic of my to be nephew's baby hat almost finished:
Here are some pics of my seed stitch
scarflette
made from yarn that a friend gave me when Jilly was born. It is gorgeous. Thanks to Elmo for modeling so well! :)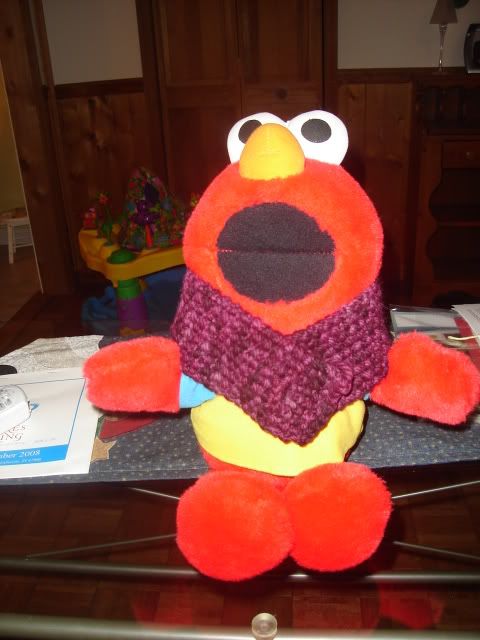 Oh, wanted to point you in this direction: I think that they are WAY cute. One of the blogs I follow is making them.
http://www.CassQuotes.etsy.com/
Good luck getting your stuff done...wish me luck with mine!
Love,
Theresa