I just did my very first pattern all on my own. I'm pretty proud of myself. I know that it is a very simple pattern and project, but it is the first one I have designed entirely on my own. The story behind it is that I made myself a pair of pink hand warmers and Layla really really wanted a pair so, of course I wanted to make her a pair. I didn't want to have to do the cabling on her's though because most likely she will lose one somewhere and I didn't want to put that much into it. I realize that sounds mean, but come on, she's 3. Chances are, she is going to lose a warmer. So, this design came from wanting to make something simple that could go on either hand so she would't have to figure out which hand was which (we are still working on Right and Left, although she is getting better). I'm sure that there are similar patterns to this out there, so any similarities are completely accidental. Let me know if there are any mistakes, OK. I hope that your little one will enjoy them as much as mine does.
Layla's Pink Mitts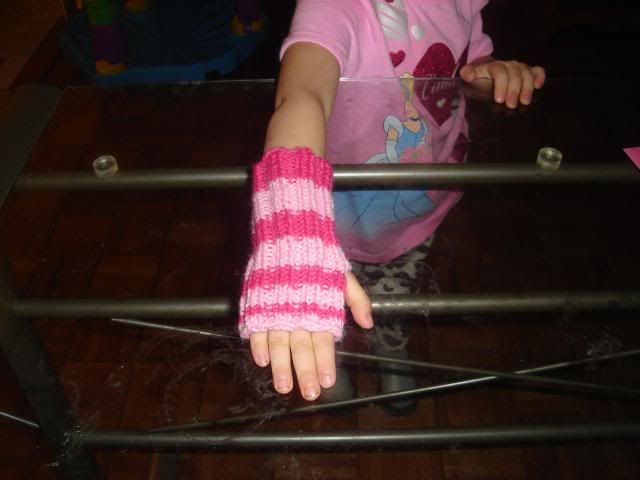 Materials
Worsted weight yarn in 2 different colors. Make 1 (A) and the other (B). (I do not know the exact amount, but it really wasn't very much)
I used Plymouth Encore Worsted in Hot Pink (A) and Light Pink (B). I used 2 different
colors, but if you want to use only one or more than 2, feel free. The directions are just what I did with two colors.
1 set US #6 DPNs
Tapestry needle
Gauge
14 sts/15 rows = 2" in 2x2 rib
11 sts/17 rows in 2" in stockinette stitch
I am really bad at figuring gauge, especially in the round and in rib. Luckily since it is a rib
pattern, gauge is forgiving. You won't be knitting in St st, but I included the gauge in case
it helps.
PATTERN
CO 32 sts with A as follows:
Needle 1: 12 sts
Needle 2: 12 sts
Needle 3: 8 sts
Knit in 2x2 rib pattern as follows:
A for 8 rounds
B for 8 rounds
A for 6 rounds
B for 5 rounds
On next round, continue knitting with B and knit in pattern across Needles 1 & 2. On needle 3, K2 then BO 4 sts knitwise, then purl remaining stitch.
Next Round: Switch to A and knit around in pattern to where you bound off the 4 stitches on the row below. CO 4 sts (I used the Backward Loop method), purl the last 2 sts on that round.
Continue in pattern with A for 3 more rounds.
B for 4 rounds
A for 2 rounds
B for 2 rounds
Bind Off in pattern with B.
Turn inside out to weave in ends. Make another Mitt the same way. ENJOY!