Wow, I haven't posted any progress on here in a LONG time! I can't believe that. I have gotten several things done, I should probably tell you about them, huh? :) OK,where to start...My first pair of fingerless gloves. I LOVE them so much! I will have to come back and link the pattern from Ravelry because it is down right now. :( Anyways, they are done with Hobby Lobby "I Love This Yarn" in Ombre Navajo. They are really pretty. They are to go with my orange hat. They have a really pretty braided cable up the middle. They were actually my first FINISHED cable project.
I have also made myself a hat. It is the same pattern as the umbrella hats that I have made for babies, but I LOVE the pattern, so I made myself one. I just cast on an extra Umbrella flounce or whatever you want to call it. I think that it turned out pretty cute. It is kinda long, but at least it will keep my ears covered.
I made myself a second pair of mitts to go with the hat. Well, unfortuantely, the colors don't match very well. I have enough yarn that I will probably make myself a quick hat out of this yarn, just so it matches, but we will see. I LOVE these handwarmers, I want some in every color. I am not sure which I like more, these or the Navajo ones.
Finally, Friday night before a bonfire on Saturday, I realized that if it was cold Saturday night, Jillian would have nothing on her hands. So, I got busy and made her some mittens really quick. These were a SUPER fast knit, and only took a couple of hours. I used some scraps to embroider on them. I think they turned out well.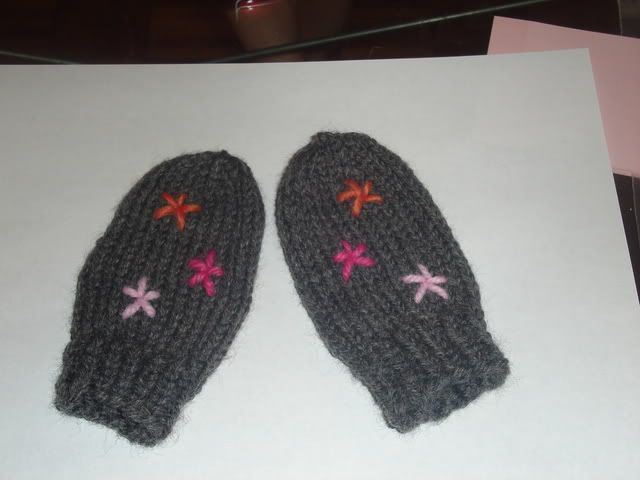 I now only have 2 projects on the needles, my dad's scarf and my grandmother's wrap. I do still have my elephant on needles, but that project is hybernating for a bit...just wasn't in the mood to finish it.
I have some other stuff I want to cast on for, I may have to make a list from my Ravelry page...too many things!
Love,
Theresa