Yeah! I am done with the Baby Shower/Birth Mania! I am really excited to get to knit some things for me and my family. I did have fun making this set for my friend Darci's girls. I plan on making a set for my girls, at least of the hats...probably in a lot of colors too...this hat was easy and SO cute. It is from One Skein, and made from Caron in Watermelon and Soft Yellow. The booties are from Saartje's Knits made in the same yarns.

I really hope that she likes this!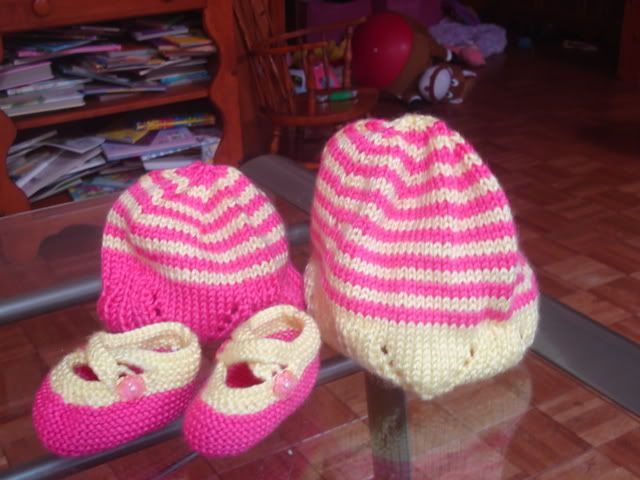 I am making myself a really neat beret from Charmed Knits (see link to the left) made out of Patons Chunky in Ashes of Roses. I am using the Harry Potter House Beret Pattern and am calling it "Not so much Harry Potter Beret". I have also cast on a dress scarf for my dad in Lion Brand Microspun in Mango. I am going to cast on one of those One Skein hats for Jillian and I just bought some cotton yarn for a cute skirt for Layla and a summer hat for me. I found some really cute patterns on Raverly and can't wait. I also got something new today that I can't wait to start using. I originally wanted the Denise needles but I really prefer knitting with aluminum needles and had a 50% off coupon from Michael's. I went ahead and bought the Boye Needle Master Interchangeable Needle System.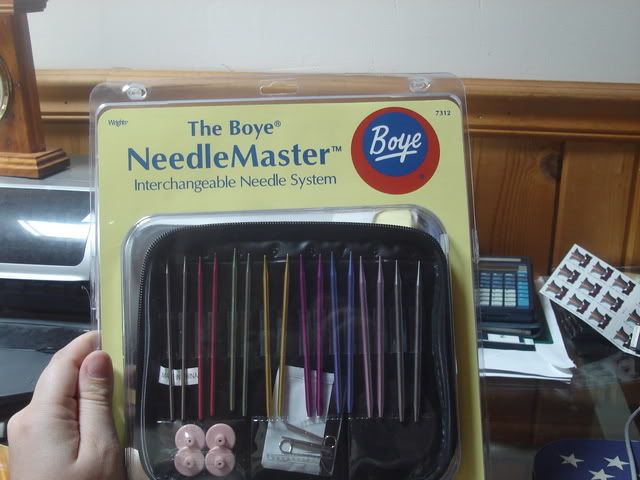 From what I have seen, the only thing so far I don't like is that it doesn't come with an 8" cable to make a 16"circular. Hopefully I can purchase that. Then I will be good to go.
That majorly sucks Carli! Hopefully, they will open up some more seats or something. If so, you had better be taking an extra book and getting me an autograph! :) Yarn Harlot, if you read this...you are our hero!